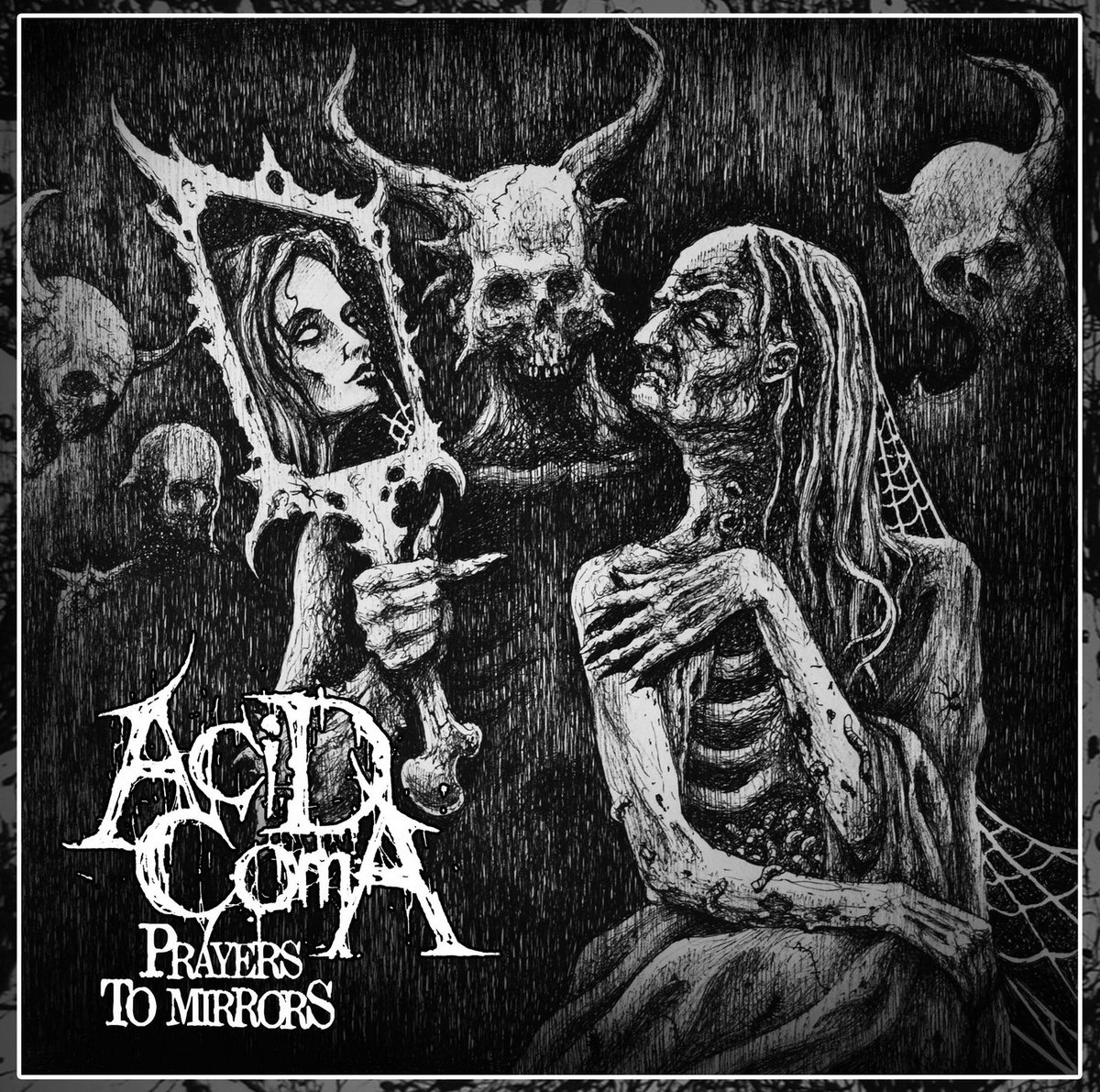 Acid Coma are a band I've featured on my radio shows for a long time. Whether it be punk or anything else, I used the art of sneaking something different into the format by ways of 'oh how did that get there?'. When I first heard Acid Coma's initial release I was really impressed by the vocals for this style. I'm not going to start name dropping various bands as I'm too lazy, and I like to listen to music on its own merit, and write how I feel. The vocal range is good and the female lead conveys the expression of horror to match the heavy guitars. The riffs are huge, and I guess think of a giant bottomed man about to sit down. Its that scale that you hear. Like oh no big Bill is coming, but in a good way.
I'm a nerd, its obvious. I mean look at the site its comics, sci fi, punk/hc, hip hop then random metal guilty pleasures. So stuff that has good atmosphere to it, and a certain vibe will always draw my nerd self into to thinking 'oh' as I listen to it regardless of genre or kind of music.
Acid Coma do this well, there is a level of atmosphere to go along with the vocals, and I can also hear behind the buffed up Jimmy riffs, crust punk and hardcore influences, which gains them the Ancient Visionz awards of 'nice'. Yeah man its rad. The band are also relocating to the West Coast, an area well known for some great punk/metal projects and collaborations.
A comic book/nerd description would be imagine walking through the wastelands with winds howling, desert storms looming, and in the distance you can hear the mutant hordes coming after you on their bikes. You need to find solace, so you make haste to find shelter somewhere. The music definitely has that post apoc feel with moody riffs, solos, fast paced parts in some tracks, and dredging riffs latching on to your feet to drag you down into the depths of the wastes. Coming back to the vocals, the lead singer carries this forth with her voice, an embodiment of the perils yet to come. No I'm not talking about the next instalment of an episode of Supergirl, which yes is a horror like no other.
Acid Coma's 'Prayers To Mirrors' should appeal to a few scenes with their interchanging mosh parts, and down tempo riffs coupled with music full of mood and atmosphere, which speaks to my nerdy imagination. I've said this about various forms of music for so long, but I hope one day someone is brave enough to start using alternative music from all scenes in film. If there ever is another Judge Dredd movie then this would ideally fit.
Both of Acid Coma's recent & earlier releases are available on Bandcamp as name your price. Expect to hear sludge, doom, and notable elements of hc punk & crust punk, especially during the faster parts on songs. If you enjoy heavy atmospheric music then Acid Coma will be right up your alley.
#acidcoma #prayerstomirrors #doom #ancientvisionz #sludge #hcpunk #crustpunk
https://acidcoma.bandcamp.com/album/prayers-to-mirrors
https://www.facebook.com/AcidComa/